When planning for an outdoor ceremony, the last thing a bride hopes for is rain on the wedding day. Unfortunately for Jill & Joe, the wedding day brought not only heavy rain, but also thunder and strong winds. However, this adorable couple did not let it bring their outdoor ceremony inside. Instead, they kept their cool indoors as we carefully monitored the weather on our phones. In order to keep things moving smoothly, we allowed their guests to enjoy a cocktail inside and mingle until the rain stopped.  Once we received word that the storm would pass, we worked diligently to get everything back to working order. I think we can all agree that it was well worth the wait. It turned out to be an absolutely beautiful day.  It just shows that with a little love and a good planner, rain doesn't have to ruin a wedding day.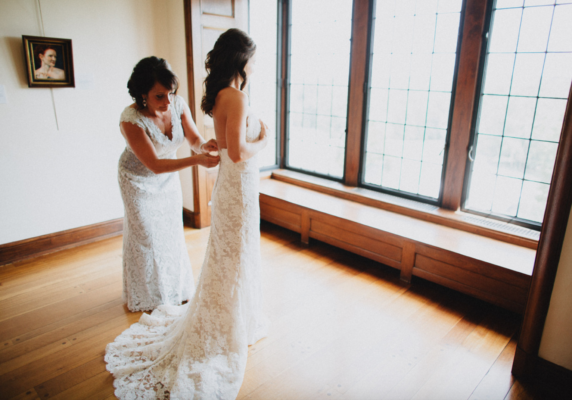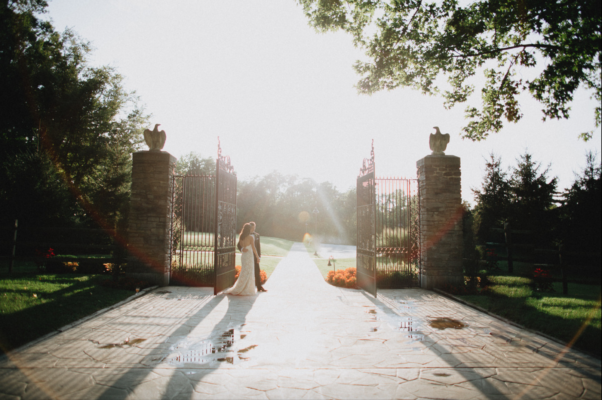 Look at this shot of the sun just beginning to break through! Just gorgeous!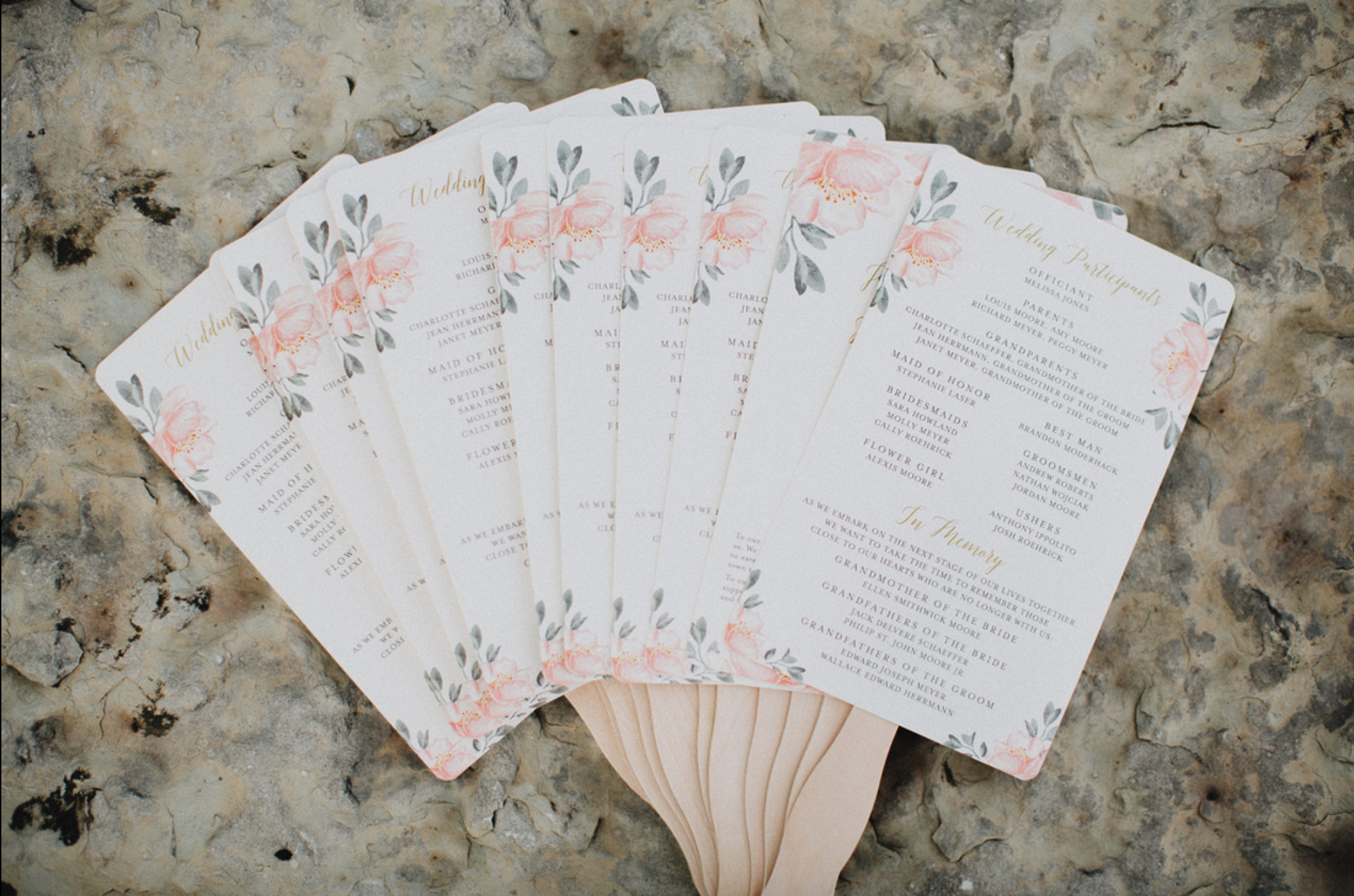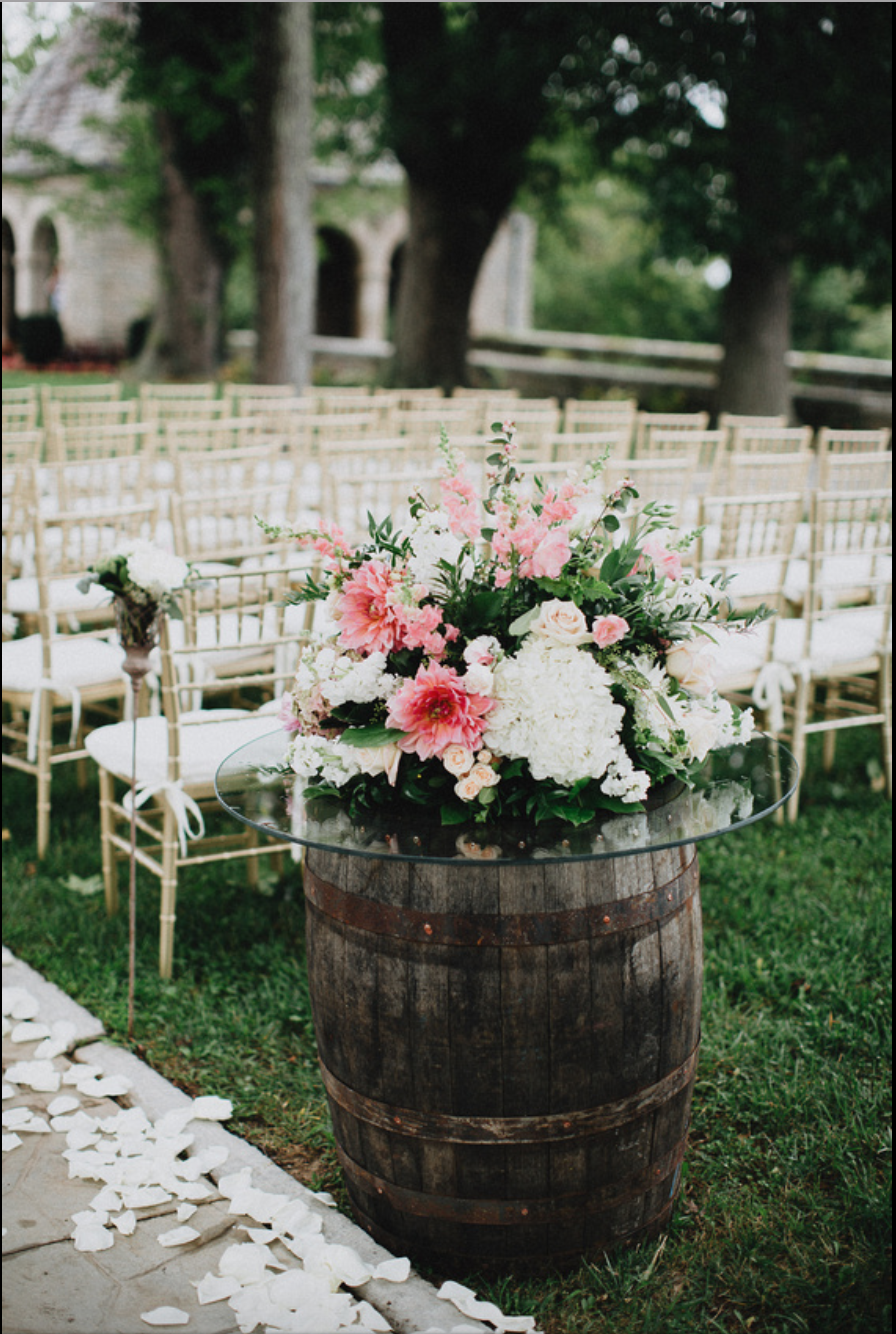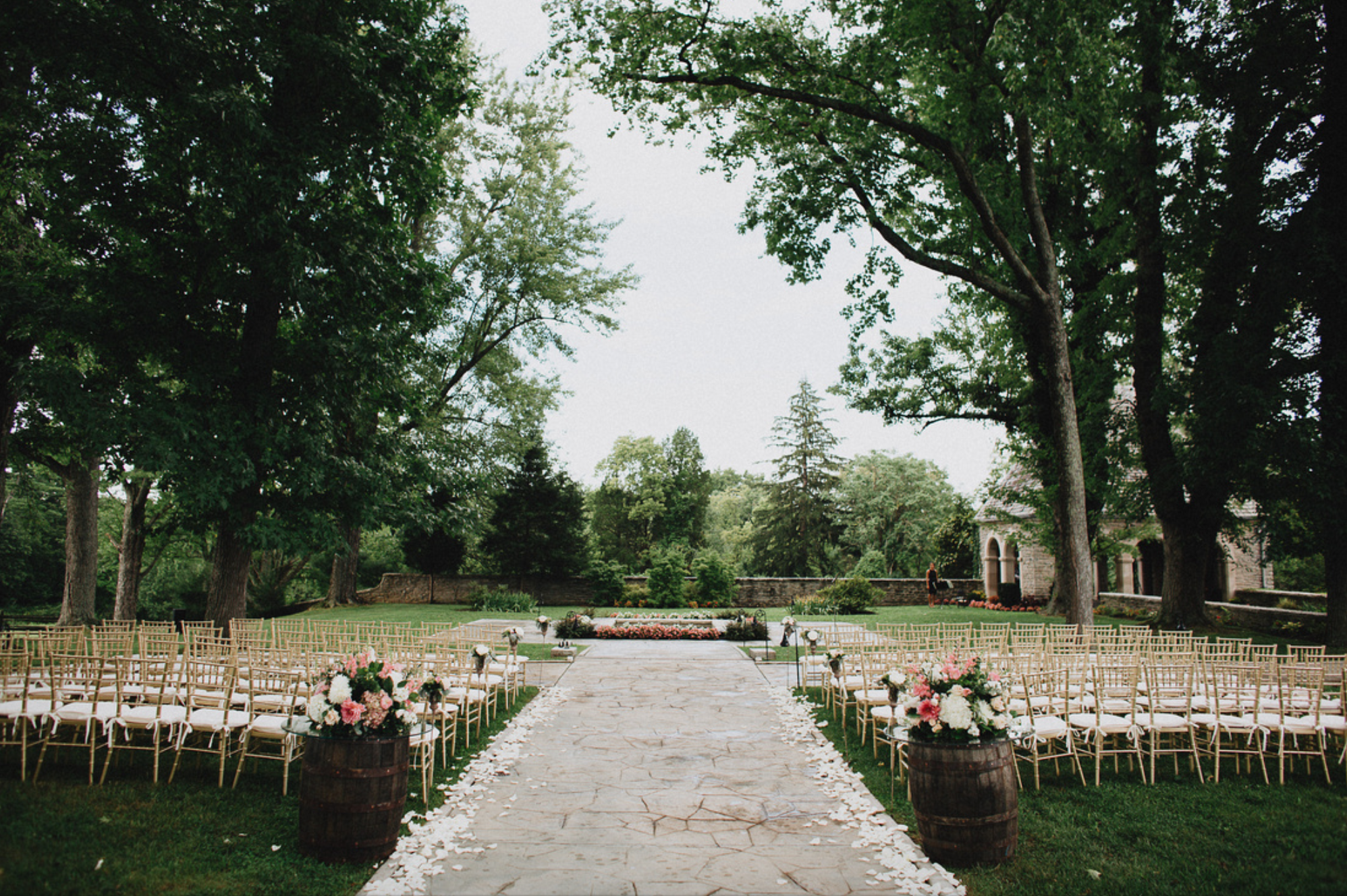 Our bride chose a dreamy color palette of creams, pale pinks and a touch of greenery. She wanted something romantic and soft, while still incorporating the feel of her outdoor venue. You will notice just a few rustic details to bring everything together. We just love it! How amazing is this ceremony spot?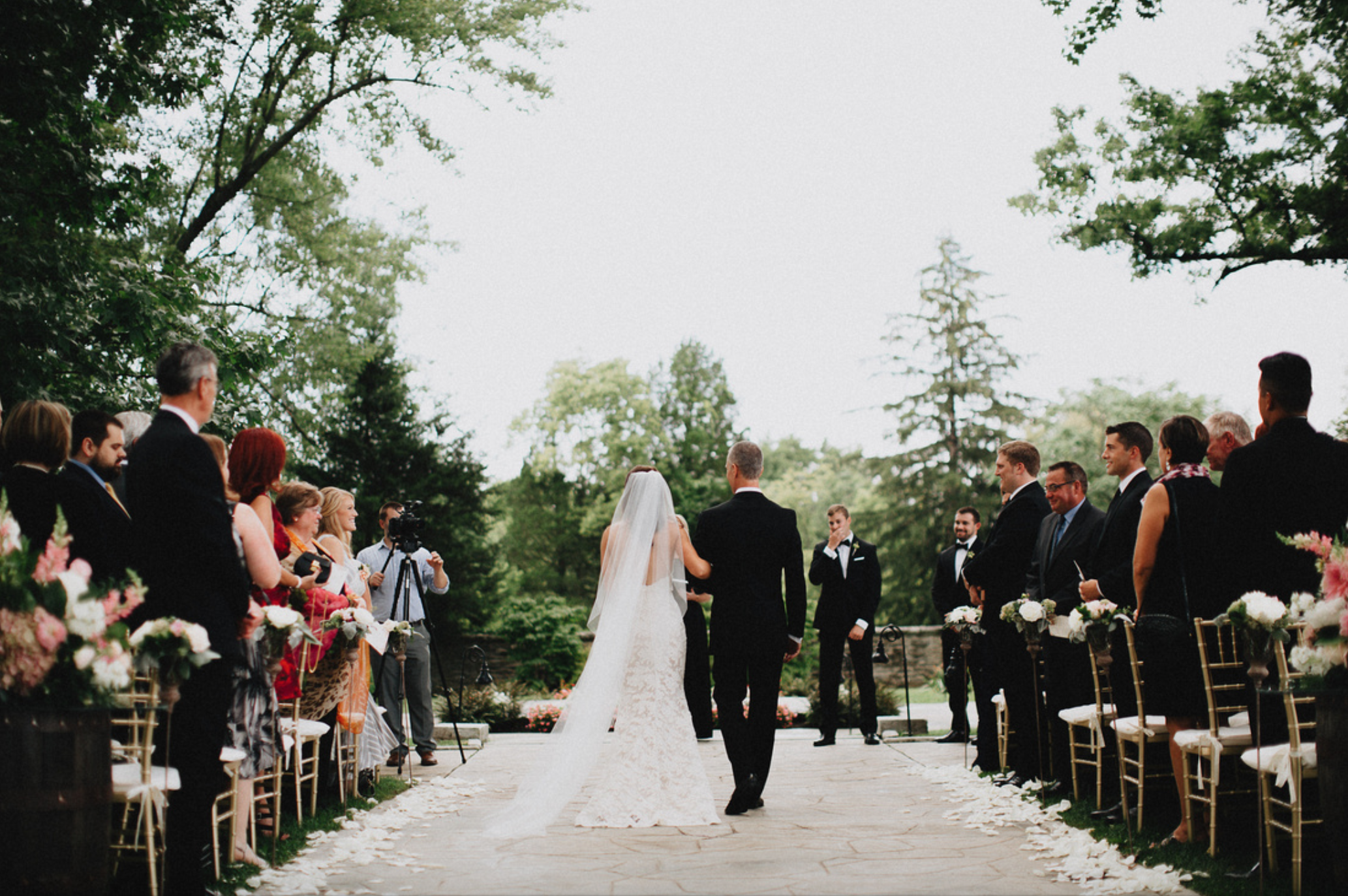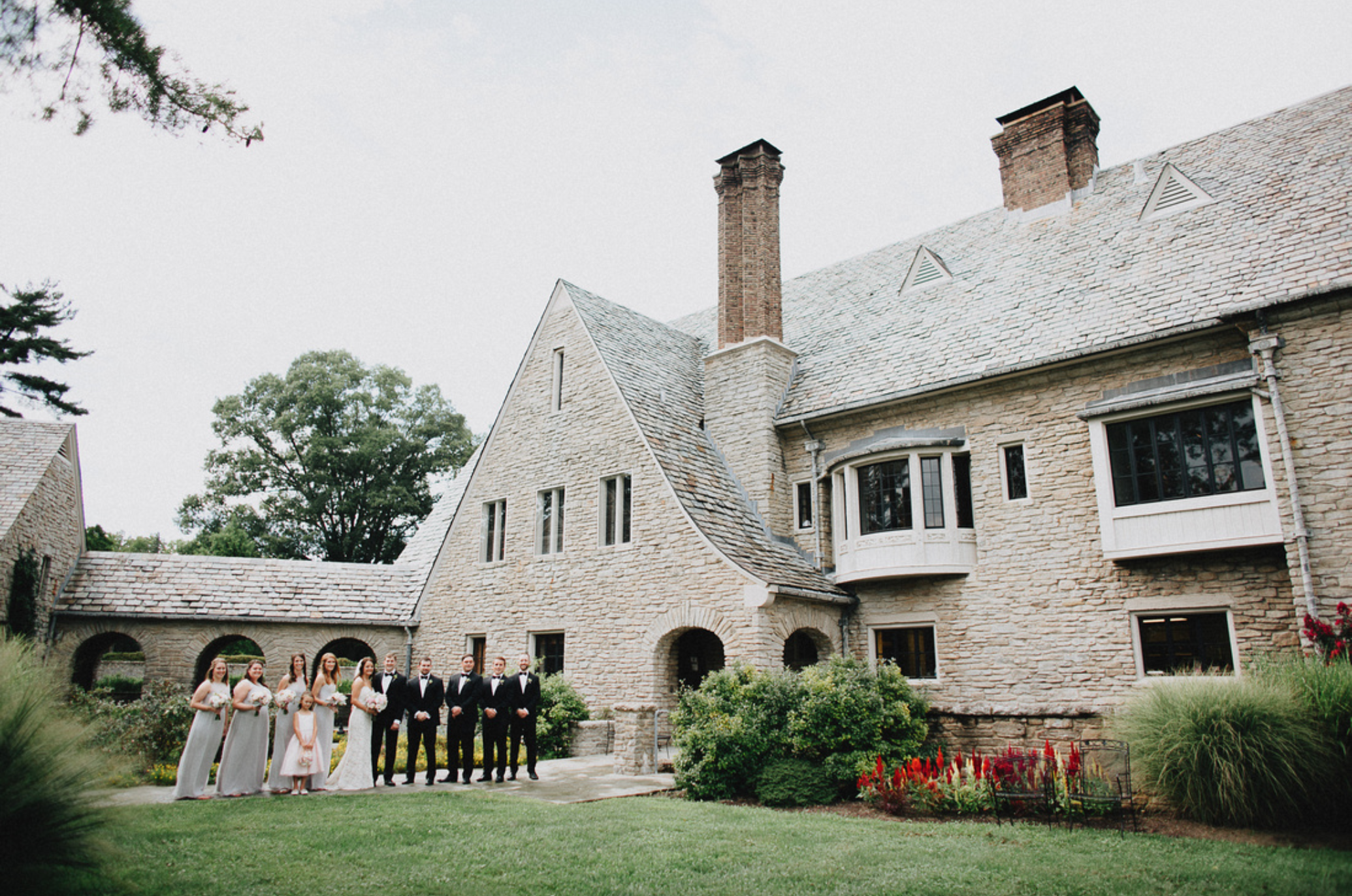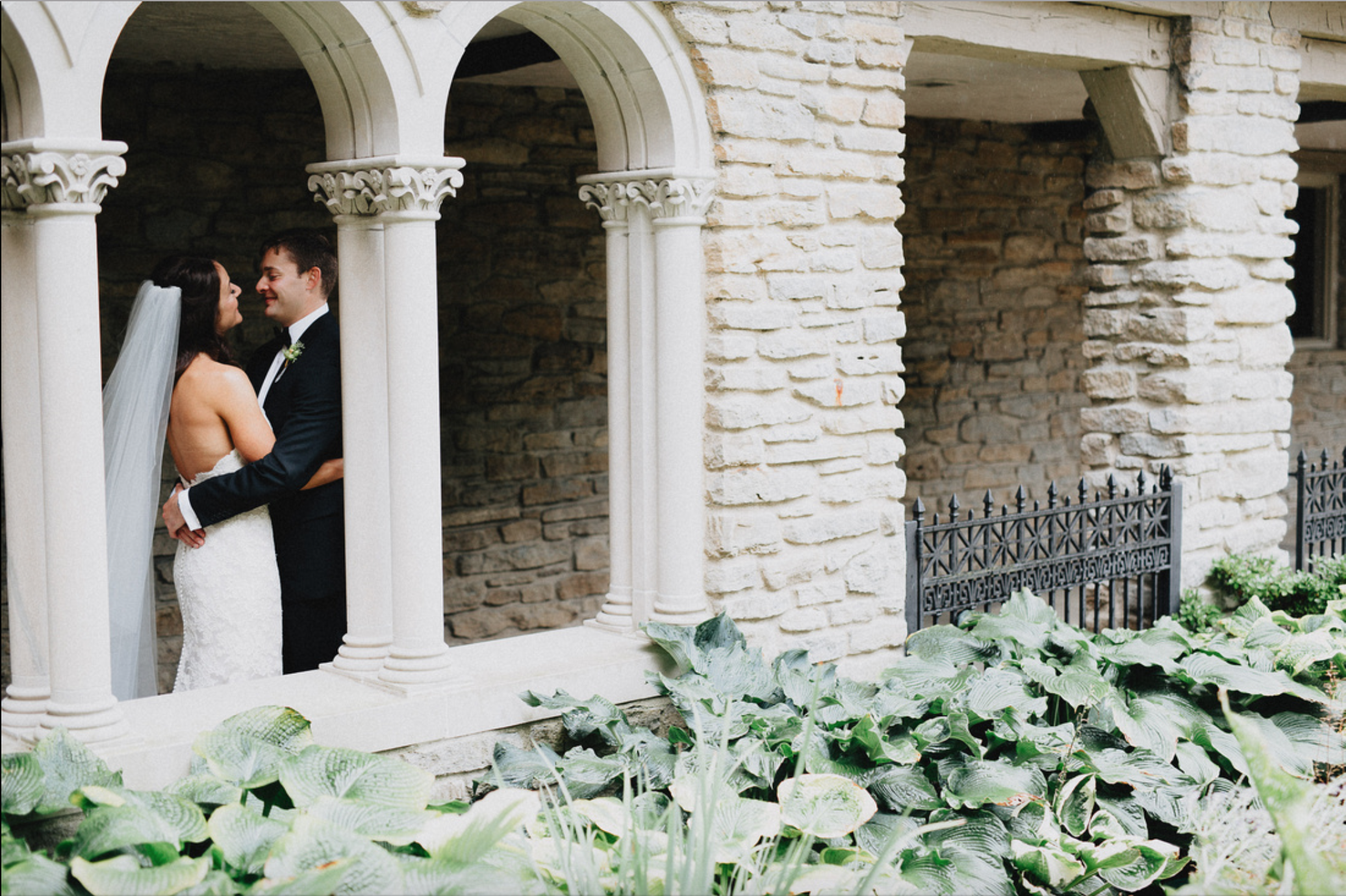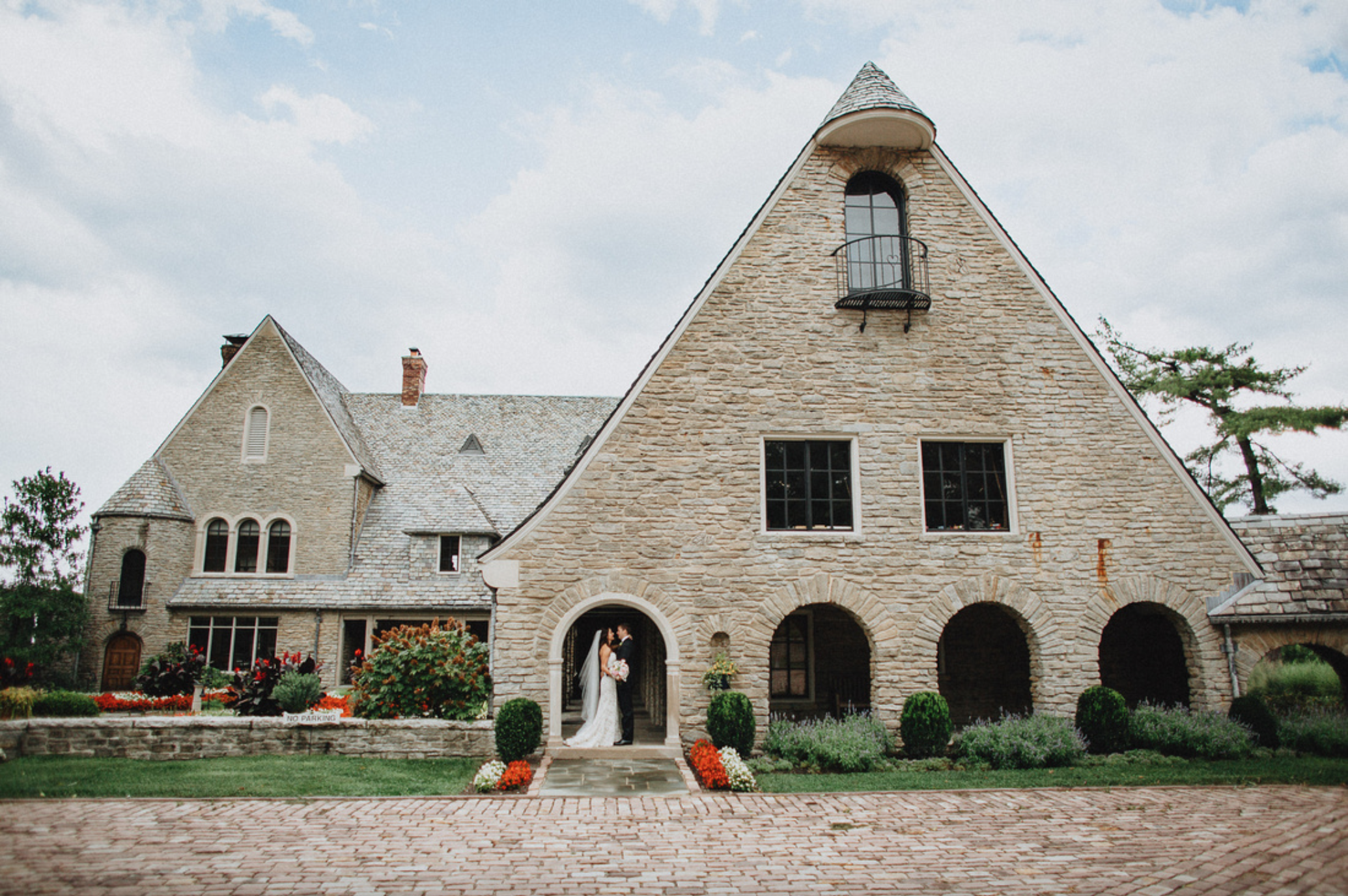 Now on to their GORGEOUS reception. We had so much fun working to ensure this wedding would be just perfect for them. They only had 120 guests at their wedding. If you have ever been to Greenacres, you know the tent is huge – we're talking 8,000 sq ft! Throughout the process, we had to think of some creative ways to make the space feel cozy and intimate. First thing you'll notice is the blush draping throughout the whole tent, provided by Fitz The Occasion. Our bride chose a full drape – we just love the impact it made from the very moment you walked in the reception. Look at the combination of the custom white dance floor and the chandeliers – we are in heaven!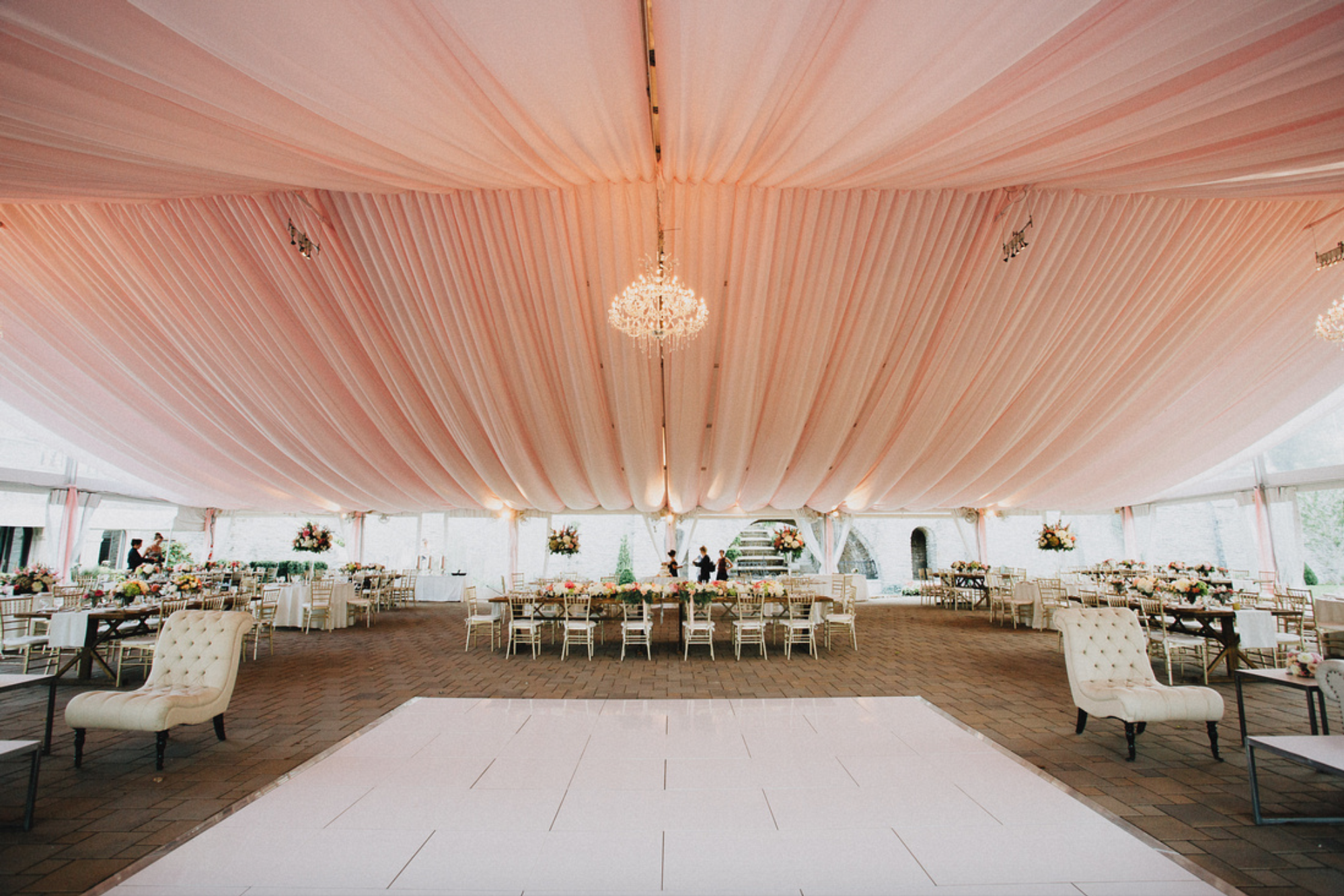 Robin Wood's reception florals were designed with a variety of heights and and flowers.  Our bride loved dahlias, so you can catch them in her arrangements with hydrangeas, roses and more. We went with a full floral runner which went right down the middle of the bridal table, and it was a stunner!!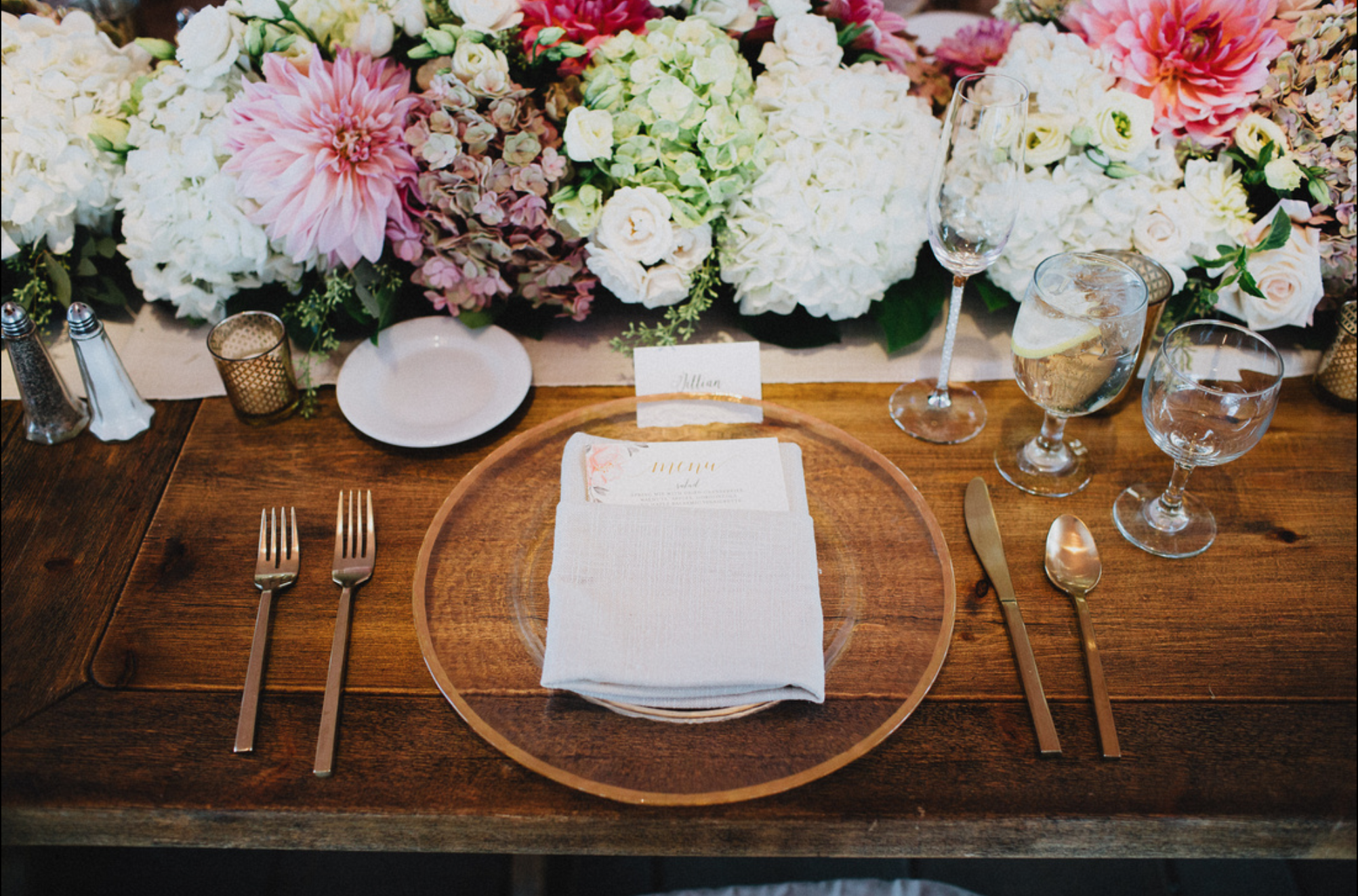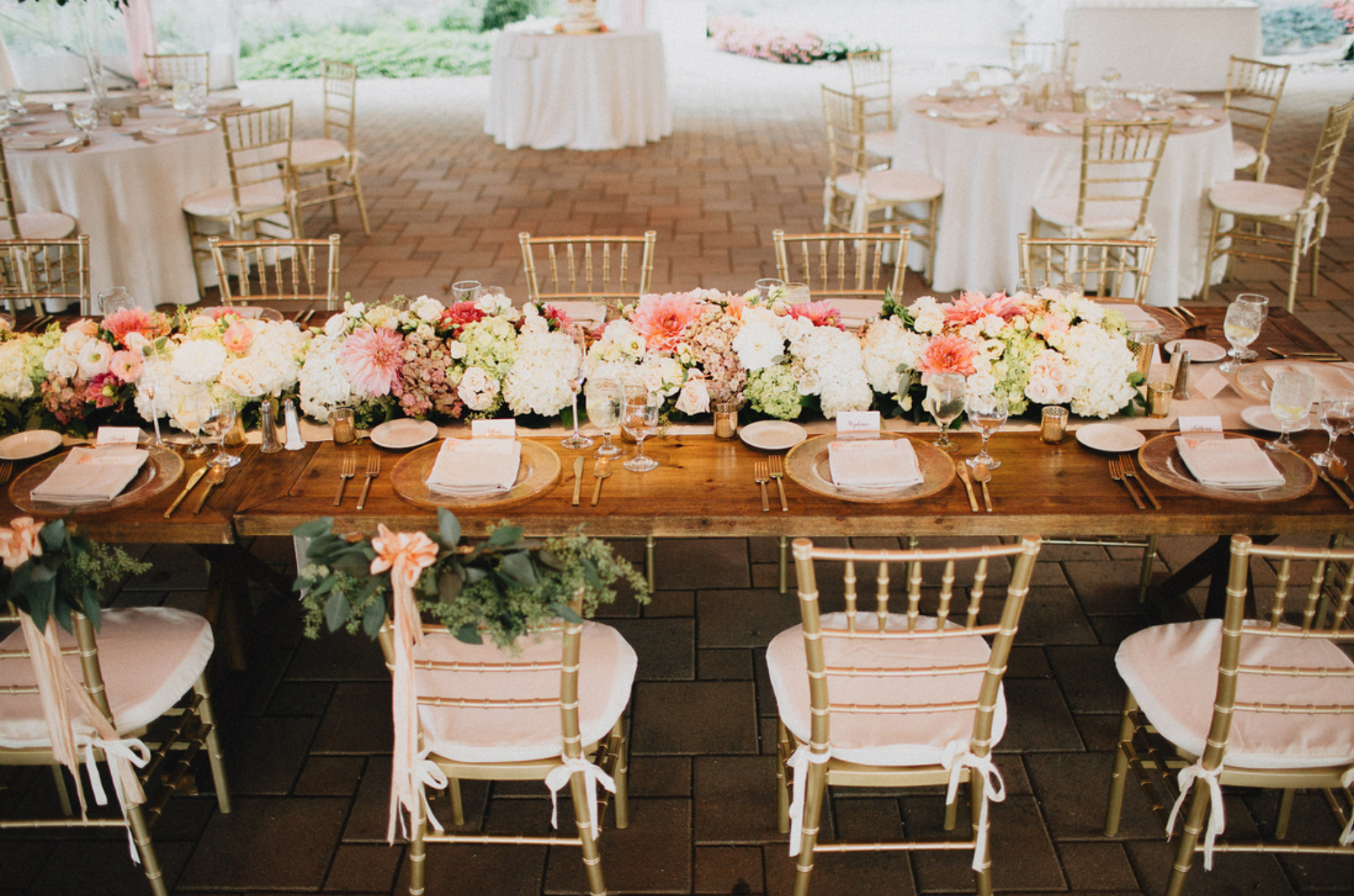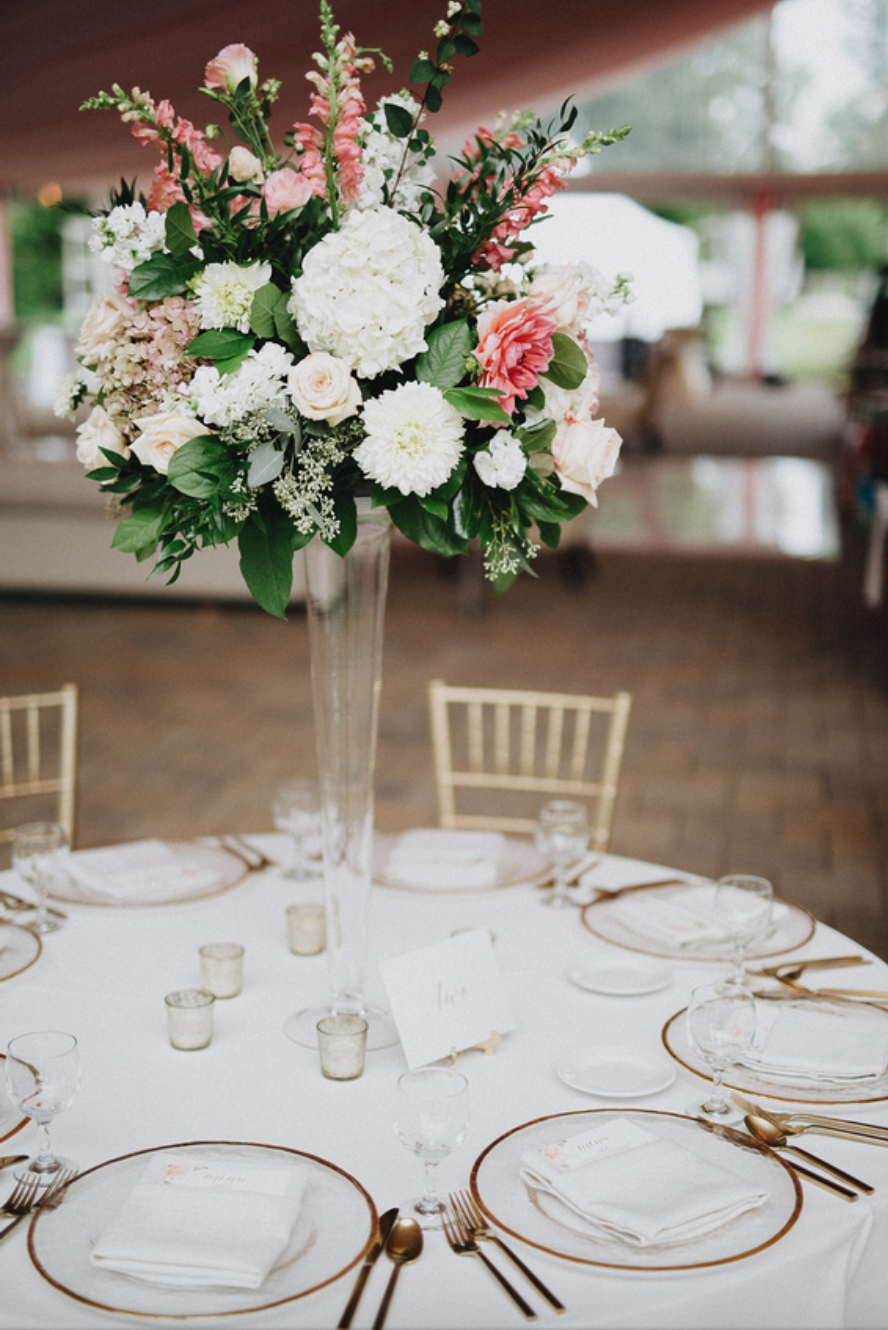 Love this naked cake from A Spoon Fulla Sugar!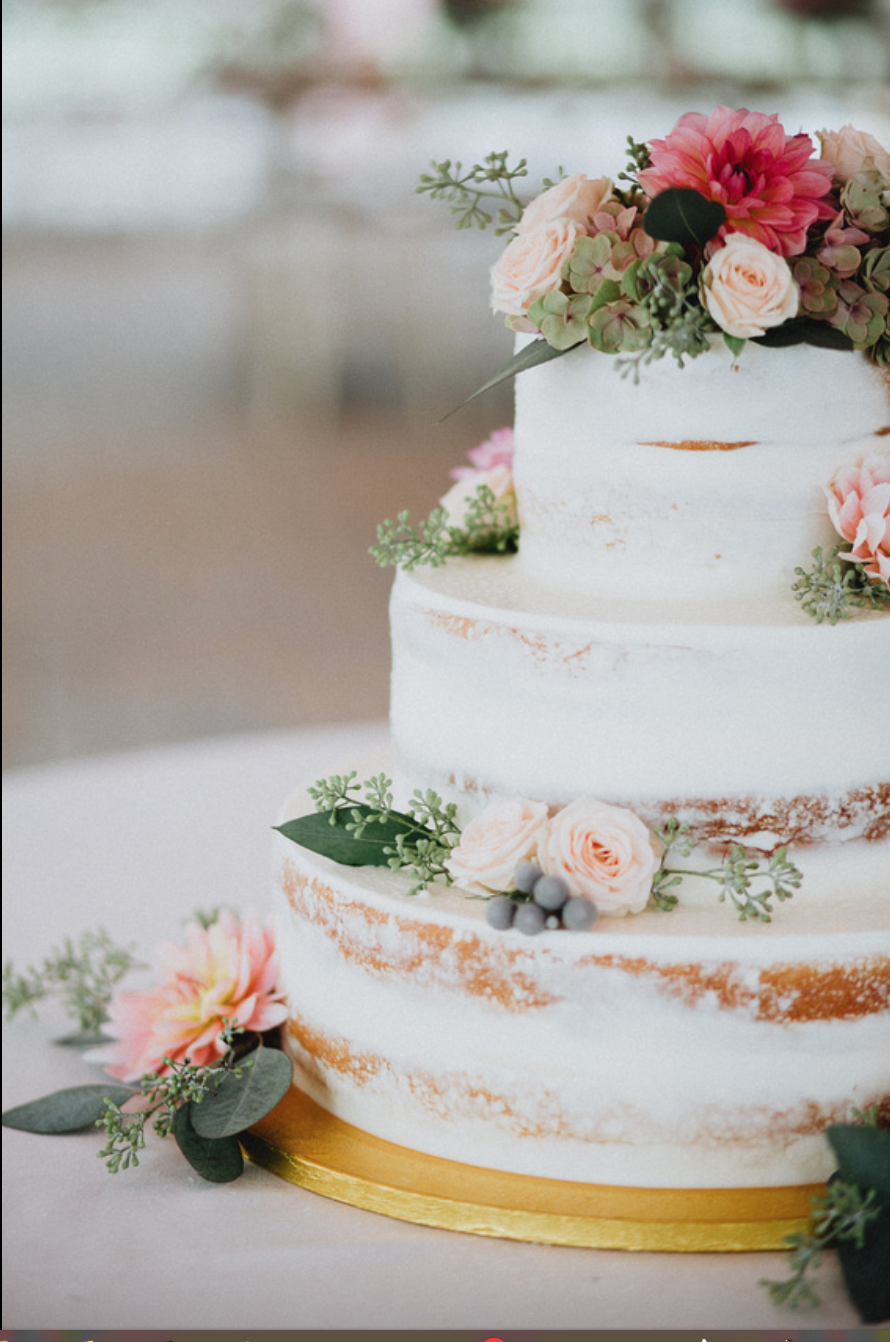 We went with a mix of 4'x8′ farm tables and classic 5′ round tables. We chose a simple cream colored runner on the long tables with low clusters of flowers to play on the rustic theme. The round tables were dressed up with floor length linens and amazing tall centerpieces. In order to make the most of the space in the tent, we brought in two custom white bars from All Occasions.  These bars paired with tall cocktail tables gave the area around the dance floor more of a party feel. When the lights were dimmed and the music started there were plenty of areas for guests to mingle without having to go too far away from the dance floor.
We are big fans of lounge areas at weddings. This amazing furniture grouping from All Occasions added the perfect touch! 
This day was full of surprises! We worked closely with Jill's father to surprise the couple with a Same Day Edit by Studio Z Films. We told them the photographers needed to take more photos, so they scurried off while we quickly set up the projector. Let's just say it was a huge success, and there was not a dry eye in the house. The day always goes by so fast, so being able to relive those moments with all of your guests is incredibly special. Plus you get to see things you might not have seen otherwise.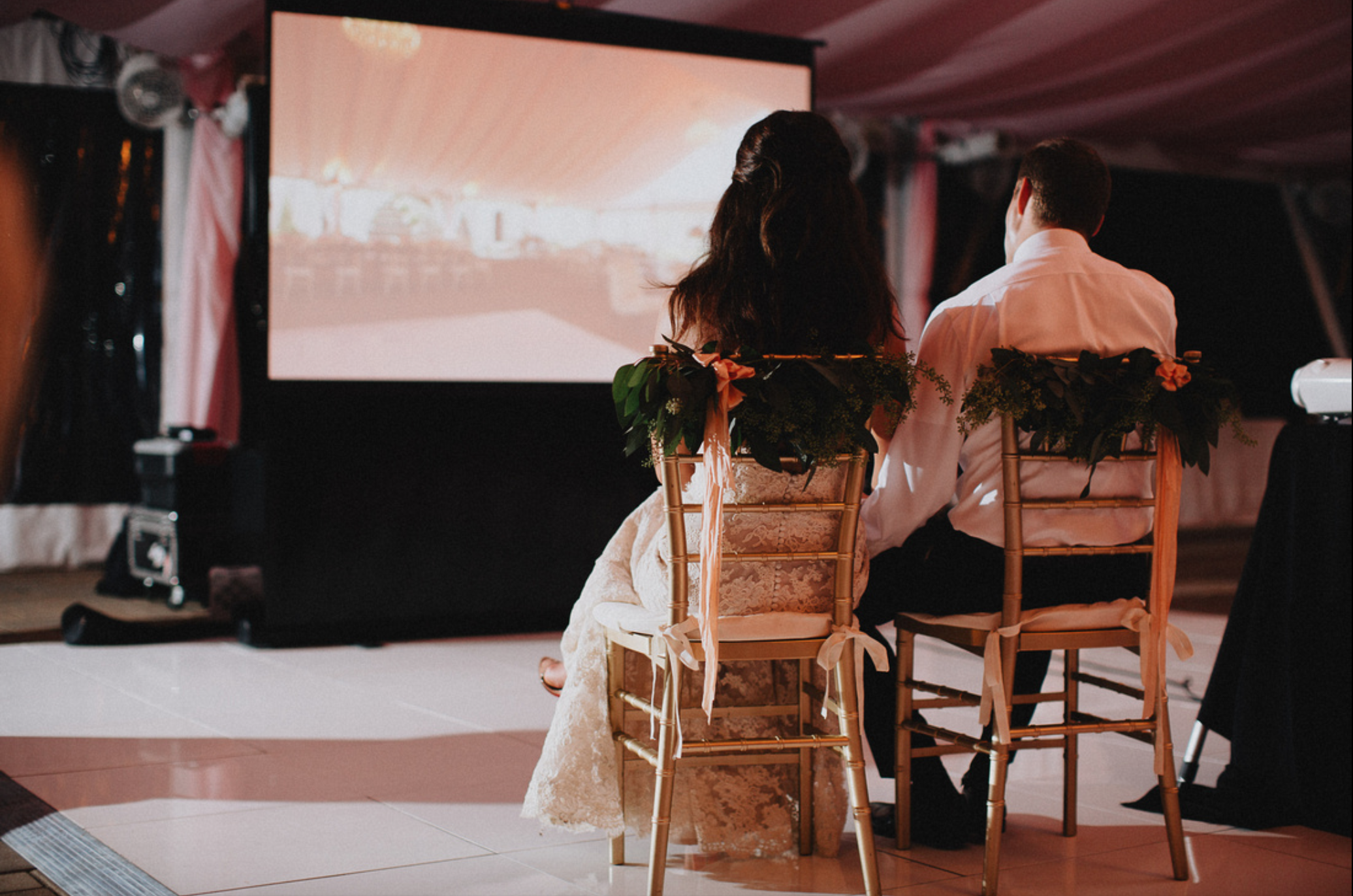 We had so much fun working with this great couple. This wedding was one for the books. We can't thank the amazing vendor team enough for allowing this wedding to be such a wonderful success!
Vendor Love: Coordination, Planning & Design: i-Do Weddings & Events | Venue: Greenacres Art Foundation | Photography: The Brauns | Same Day Edit: Studio Z Films | Florals: Robin Wood  | Catering: Funky's | DJ: DJ Toad | Hair & Makeup: Brideface | Rentals: All Occasions Event Rental | Draping: Fitz The Occasion