Every couple wants fun wedding ideas to make their wedding the best it can be.  In fact, when we ask our clients, "What do you want people to remember about your wedding?", the most popular response is "That it was a really great party."  How do you make your wedding feel more like a party and less like a stuffy formal occasion?  Here are 3 of our favorite tips: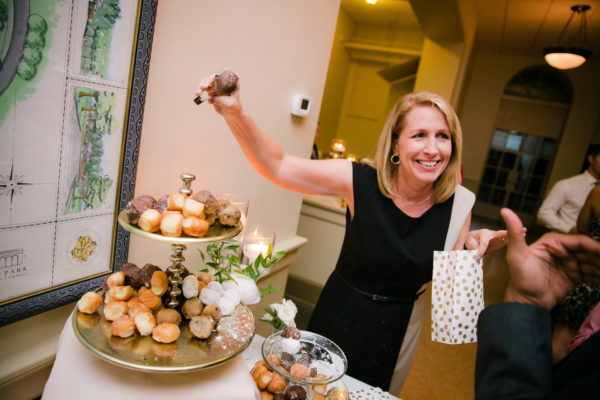 Fun Weddings have great dance music This one might seem obvious, but notice the emphasis on the word "dance".  A packed dance floor is a tell-tale sign of a fun party.  Even if some guests are not dancing, they are having fun just by watching the ones who are. Make sure the music you choose has a good beat for dancing, and your guests will take care of the rest.
Fun Weddings serve a novel food or beverage item Guests love to be served unique food and drinks. It can be as simple as bite-sized ice cream sandwiches or milk shake shooters that are served on the dance floor or as elaborate as a sushi bar. Think of ways to incorporate your favorites into the menu. Sweet like donuts, salty like popcorn or savory like mini grilled cheese sandwiches – comfort food and drinks are always a big hit.
Fun Weddings encourage guest interaction with other guests Photo booths, lounge areas, and specialty bars encourage mingling. Guests have more fun when they have the opportunity to talk to the other friends and family members you have invited to the wedding. Any activity that gets a guest away from the table is a good opportunity for wedding fun. Be creative with the things you love to do…yard games, ping pong, board games, video game stations – the only limit is your imagination!
By thinking outside the box, your wedding can be memorable for all the right reasons. If you incorporate fun wedding ideas, you'll have people saying "Your wedding was the best I've ever been to!" for years to come.
*Photos by Jonathan Gibson Photography