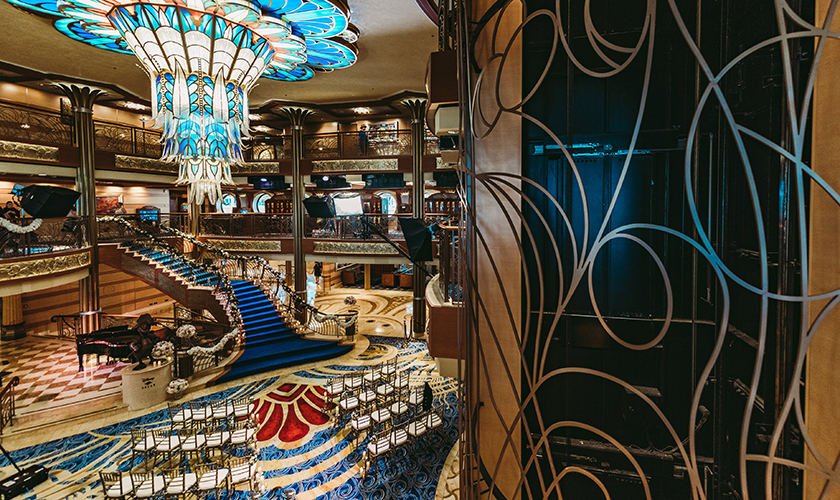 Have you ever considered having a wedding on a Disney cruise ship?  If you are blending 2 families with young kids, a Disney cruise ship wedding could be perfect for you.
Getting married on the open seas comes with many perks, starting with the fact that a cruise ceremony is basically a destination wedding and honeymoon all in one.  But, like all destination weddings, there are legal issues to consider.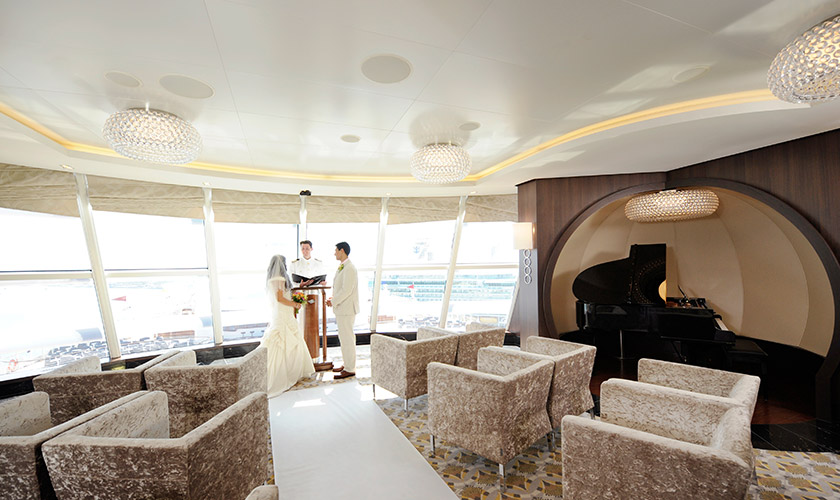 If you exchange vows aboard the ship before it sets sail from a U.S. port of departure, your ceremony and marriage license are the same as if you were getting married on land.  Since senior officers of the Disney Cruise line are not able to perform legal ceremonies at sea, Disney provides couples with an officiant who legally marries them on the ship on Embarkation Day before the ship leaves its home port.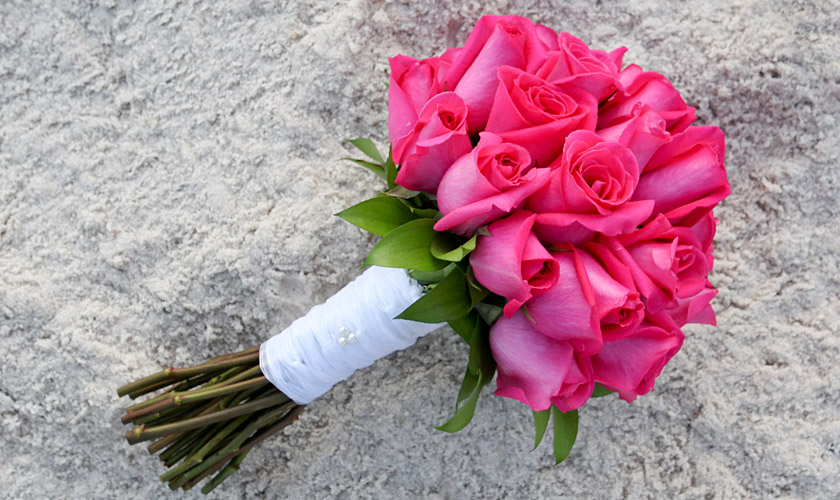 The wedding package also includes fresh florals for the couple and a pianist to perform music for the ceremony and the Cake & Champagne celebration afterward for up to 16 wedding guests (more guests can be added for an additional fee and not all guests need to be booked on the cruise since the wedding happens while still in the port).  Other features of the wedding package include a steaming service for the wedding couple's attire, dinner for the couple on the wedding night at Palo on-board Northern Italian restaurant, and a $100 onboard stateroom credit that can be used at the spa or port adventures.
Cost is $3,000 for an onboard wedding ceremony or $4,000 for a ceremony at Disney's private island called Castaway Cay (this fee does not include the cruise fare for the couple or any guests).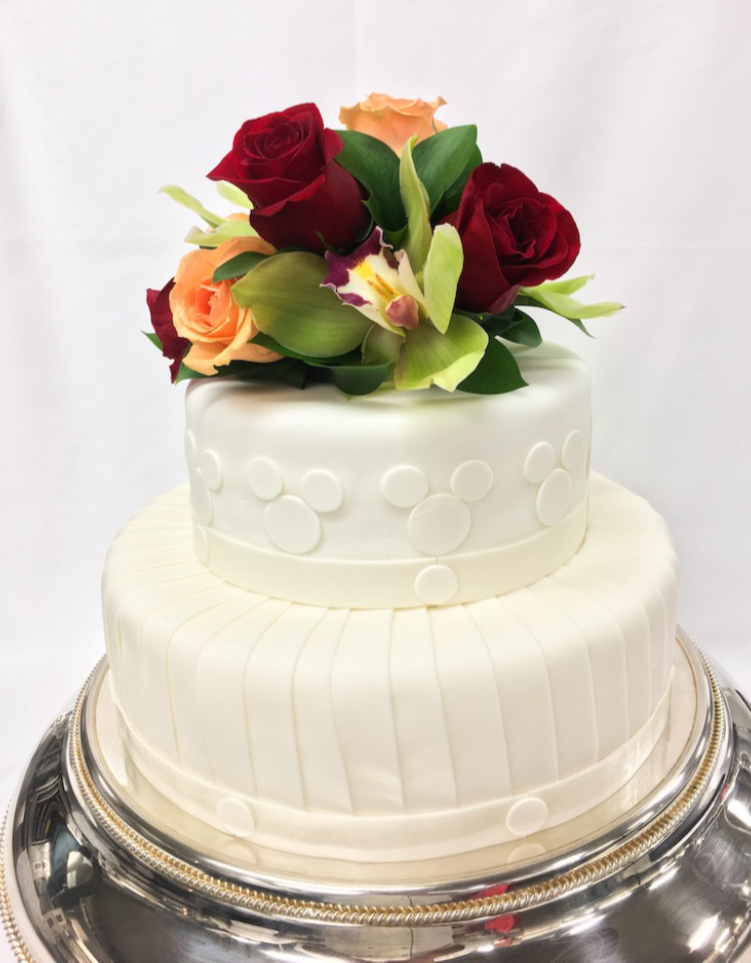 In our experience, Disney ships have some of the best cruise ship food we have ever eaten – and they are experts at taking care of special dietary needs.  In addition, your guests will love the unlimited soft serve ice cream, water slides, swimming pools, hot tubs, and the variety of onboard activities with their favorite Disney characters.  The staterooms are designed for families and are some of the largest in the cruise industry, and many of the off-ship excursions are family friendly but fun for all ages.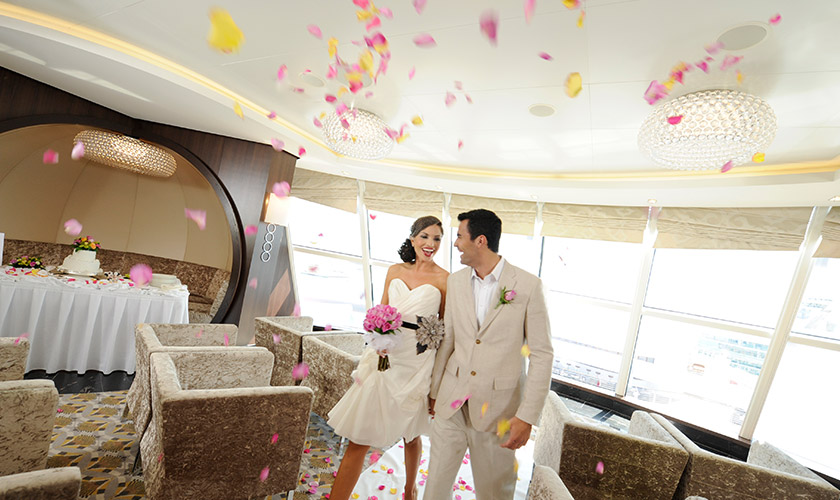 For non-Disney fans or couples who don't have children, consider a wedding on a Carnival or Princess Cruise.  "We visit some of the most beautiful islands in the Caribbean, including Cozumel, Grand Turk, and Jamaica," notes Keta Burke-Williams, a marketing executive in Carnival Cruise Line's Weddings Department. "We have packages for small groups but have also hosted weddings for more than 200 guests, and we're proud to offer same-sex marriages in some ports of call," says Burke-Williams.
Since each of the 17 ships in the Princess fleet are registered in Bermuda, anyone who marries on a Princess cruise will have an official Bermudian marriage certificate.  The U.S. recognizes marriage certificates from Bermuda as a legal document without any additional paperwork – and this also means that couples can be married while sailing on the water or on the beach vs. on Embarkation Day at the port.
For more information about destination weddings, honeymoons, or bachelorette/bachelor parties on a Disney cruise (or any other cruise line), call the wedding travel experts at i-do Weddings & Events.  Our IATAN certified travel consultants are ready to help you plan your dream wedding, honeymoon or pre-wedding getaway on the high seas or anywhere else you choose!