2018 is right around the corner – and if you're planning a wedding for next year, you definitely want to know the best and most popular food trends that will dominate the wedding scene for the next 12 months.
To help you "steal" some inspiration, we have gathered some of the most amazing food trends all 2018 brides should know – so read on to find out more.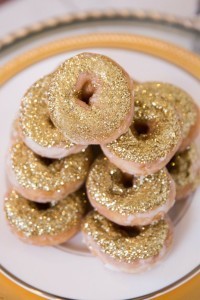 It's all about the herbs and the plants. Seasonal foods have been very in-demand in the last couple of years – and you have several reasons to love them, from the freshness they offer to the uniqueness and lower price they come with. If you want to serve seasonal foods at your wedding, always include a delicious plant-based selection so your vegetarian guests don't feel forgotten.
Herbs are now a cocktail trend too. Want to serve special signature cocktails at your 2018 wedding? Include herbs in your cocktails and other beverage selections! There are so many ways to do this that it's impossible not to find something that will suit your wedding style, season, and preferences.
Goodbye, tiered cakes. We know the classic white tiered cake will never go out of fashion (or at least not fully). But if you want your Big Day to be really original, think of a tiered cake replacement everyone will love. Dripping cakes are highly popular right now – and they look absolutely inviting, so there's no chance you'll go wrong with one of these!
Looking for an amazing wedding planning professional? Contact I-Do Weddings & Events and hire us if you want your wedding to be picture-perfect from the very beginning to the end. Even more importantly, contact us if you want to stay sane before and during the Big Day – and if you want enjoy the magic of this event!