You definitely want to be a stylish bride – but that doesn't mean you have to freeze in a sleeveless wedding gown when shooting all those scenic pictures. On the contrary, trends this year are more than generous with fall and winter brides who want to be both fabulous and cozy!
What are some of the options you have when it comes to bridal coverups? Read on and steal the best ideas: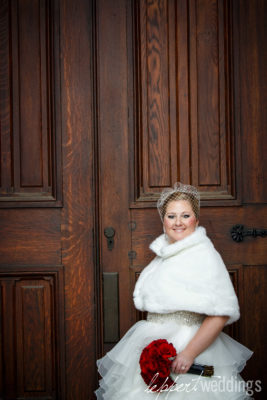 Faux fur or any other fabric, long, lush wraps are all you need to make yourself feel like a true VIP on an (icy) red carpet. Wear one in brown if you want to add a nice contrast to your wedding dress and create a really beautiful, timeless effect.
Faux Fur coat. If you want to steal your inspiration from the glamor of the 40s, a faux fur coat is precisely what you need. Settle on a white one for a suave and sophisticated effect, or a brown/ black one for an ultra-elegant look.
They are amazingly popular this year, and you have all the reasons to love them in all their lengths and styles! Wear a short, white one with an off-white or blush pink wedding dress – it will look absolutely amazing and unique too!
Leather jackets are an all-time favorite – but have you ever considered wearing one as a bride? The contrast between the delicacy of the dress and the "toughness" of the jacket will make you feel awesome!
We're here to help you bring together the details of the Big Day – but more than anything, we're here to help you have the amazing wedding you deserve without all the stress that comes with planning such a memorable event. Contact I-Do Weddings & Events!
Photography: Laura Leppert @leppertphotography